Your Next Travel Nursing Adventure Awaits
The demand for travel nurses & CNAs rises daily. With over 50 years of experience and a large and ever-growing network of clients looking to hire talented nurses, our travel nurses trust us to get our job done, finding YOU the jobs you love.

Experienced Healthcare Recruiters

89% of Judge's travel nurses start on time

1,000s of Nationwide Openings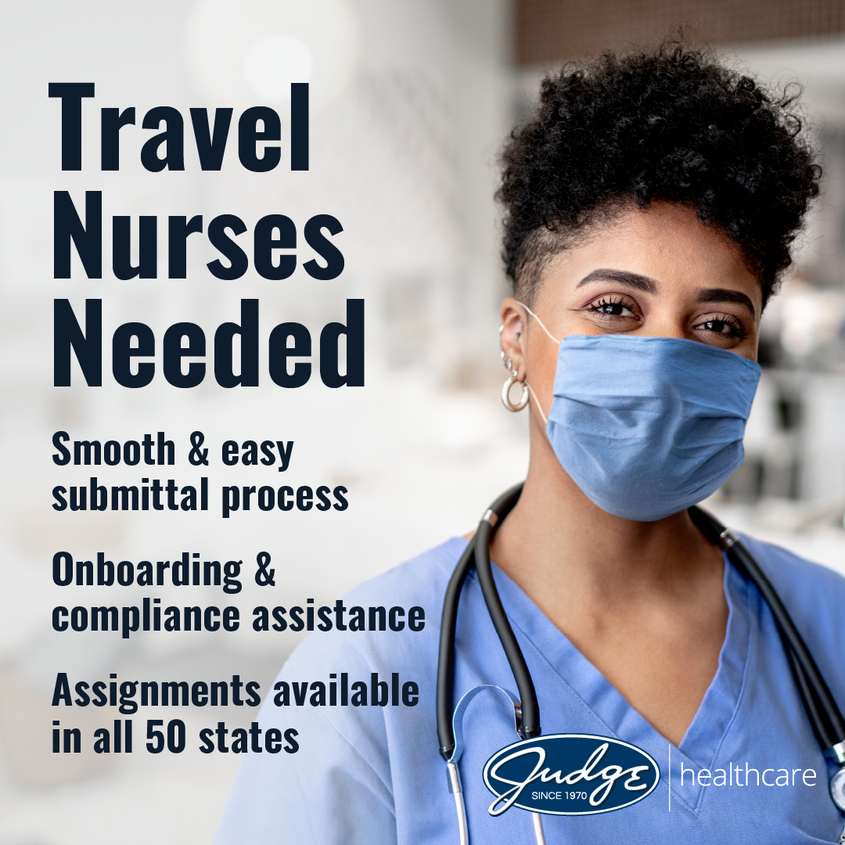 The Travel Nursing Agency You Can Trust
With a nationwide reach, our travel nursing recruiters use our network of clients to match our nurses with the right role, no matter the location. We get to know each nurse's qualifications and interests to ensure that we place them in the best position possible. We handle all the logistics of a travel nurse placement, so you can focus on your job while we worry about all the details. Judge Healthcare:
Handles the entire search and qualification process

Offers beginning to end onboarding and compliance assistance

Provides experienced recruiters with a history of placing traveling healthcare professionals in major health systems, home health, hospice care, hospitals, medical centers, rehab facilities, school districts, and many other organizations

Promises weekly pay & easy submittal process

Provides Medical / Dental / Vision insurance benefits

Customizes your contract with travel and salary packages built specifically for you
Why Judge?
From RNs and Nurse Practitioners to LPNs and CNAs, experienced nurses are desperately needed in healthcare networks across the country. Our team of talented healthcare recruiters have a full understanding of what travel nurses value throughout the job search and make sure to handle all of the work to make the process as easy as possible, while also finding you the right assignment. We pride ourselves in doing as much as we can for our candidates, such as:
Helping you get the best placement and compensation

Matching you with the location you desire thanks to our nationwide reach

Handling all the paperwork for a seamless transition into your placement

Helping secure housing that best suits your needs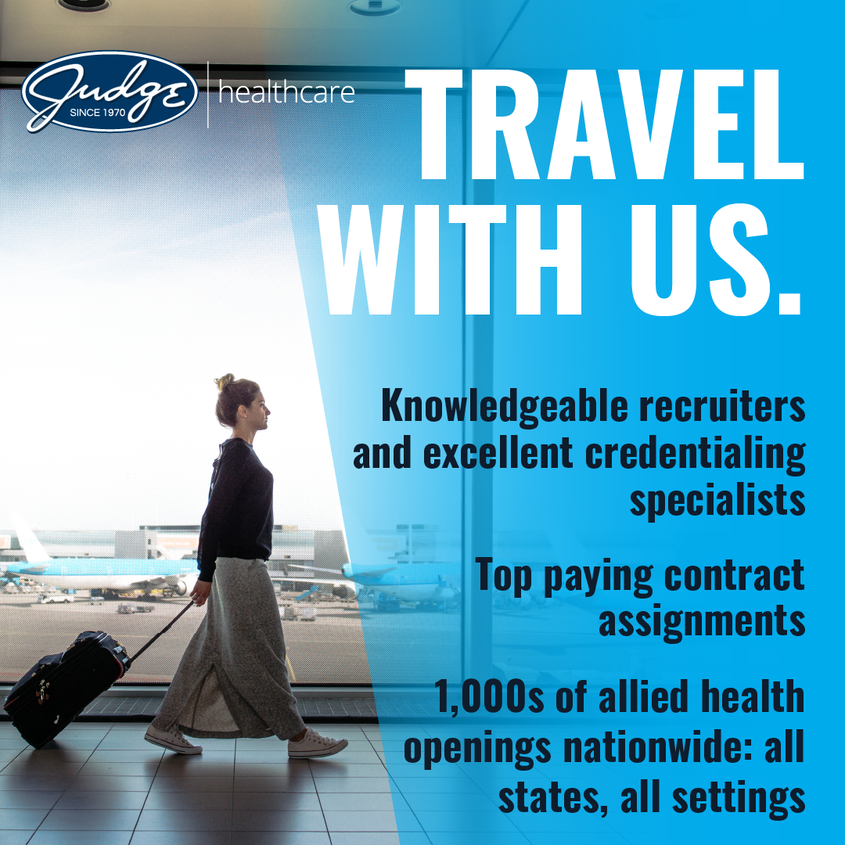 Watch our travel nursing overview video to learn more about what we can offer.
Answers to your travel nursing questions
What does a travel nurse do?
Travel nurses fill in short-term employment gaps in facilities with a shortage of care. They administer care, medication, and vaccines, respond to patient inquiries and
concerns, collaborate with doctors and other healthcare professionals, and create and contribute to medical records. Travel nurses often work with independent staffing agencies (like The Judge Group).
How do you become a travel nurse?
To become a travel nurse, you must have an RN degree and one year of experience as a nurse. Contact an agency that places travel nurses (like The Judge Group), have all your paperwork ready, and identify your preferred location and type of care.
What degree do you need to be a travel nurse?
You must have an RN degree to become a travel nurse.
How many years does it take to be a travel nurse?
You must have one year of experience as an RN to become a travel nurse.
Why are travel nurses important?
Traveling nurses are helping to close the gap in care amidst a nationwide shortage of qualified nurses. By providing greater staffing flexibility, travel nurses increase patient safety and quality of care.
Where can travel nurses travel?
Across the United States, although international travel nursing is possible (with proper licensing and steps).
Why work with a travel nurse staffing agency?
Travel nursing staffing agencies, like The Judge Group, have resources from coast to coast. We can pinpoint which locations have the greatest need, offer valuable information, and save you time on job searching. Additionally, our recruiters advise, educate, and mentor travel nurses.
How much do travel nurses make?
Under normal circumstances, many travel nurses have the potential to earn over $3,000 per week. Travel nurses can make over $50 per hour, making it entirely possible to earn well over $100,000 per year. Hourly rates vary by location, but as of 2022, travel nurses average $46 per hour.

The Judge team is awesome. They provide exceptional customer service, top quality candidates, and they always respond with a sense of urgency. Judge does a great job of getting candidates scheduled for us quickly.
-Sr. Medical Director,
Large Healthcare Provider