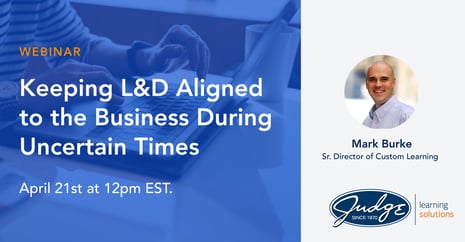 Keeping L&D Aligned to the Business During Uncertain Times
During challenging times, Learning & Development (L&D) can be viewed as expendable if they are not tied to key business objectives. This interactive session will examine critical actions an L&D leader can take to keep their function aligned to core business needs and vital to the company's success. From shifting focus towards mission-critical business objectives to evaluating the efficacy of current programs, there are many actions an L&D leader can take to stay relevant and essential.
Date and Time: Tuesday, April 21st | 12:00pm EST
Location: WebEx Webinar - Invite will be sent via email after registration if received.
---
Discussion Delivered by: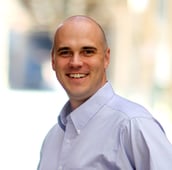 Mark Burke, Senior Director of Custom Learning Solutions
Mark Burke, EdD, is the Senior Director of Custom Learning Solutions for Judge Learning Solutions where he is responsible for the team that develops distance learning and instructor-led training for clients across a variety of industries. Mark's experience includes the creation and management of five different online universities, the development of competency profiles and related onboarding programs for several Fortune 100 companies, and 15 years of developing and implementing learning strategies in both the corporate and higher education environment. He received his doctorate in instructional technology with a focus on distance learning and assessment from Northern Illinois University.