Did you make a New Year's resolution to manage your eLearning projects more effectively? Instructional design and project management models are often too generalized to provide the guidance needed to deal with complex, multi-media eLearning projects. Well, Judge Learning Solutions can help! This webinar will outline: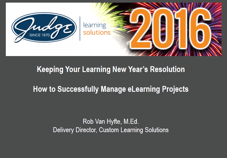 Techniques to improve project success
How team members view their individual roles
How those roles shape their understanding of project objectives
The challenges of dealing with various types of sponsors, subject matter experts, and project resources
Complete the form on the right to view the webinar and learn some tips to succesfully manage your eLearning projects in 2016.